If you have been following the journey of IIFYM.com, you know that our macro diet website started out as a small blog with diet plans. My goal was to provide as much quality information about flexible dieting as possible. To teach people how to burn fat while still eating the foods they love. Weight loss without all the complicated restrictions and dogma.
Once I launched the first ever flexible dieting macro calculator, this small diet plan site quickly grew into something that I (Anthony Collova, founder of IIFYM.com) could have ever dreamed of. As requests for macro-based diet plans came in from our readers, we evolved and took on the challenge of helping people lose weight with our personalized meal plans, Macro Blueprints, and 1 on 1 coaching.
Now with a staff of 17 people "I" has become "we". We, a team of 17 people that are constantly helping people burn fat at an alarming rate. IIFYM.com has not only become a movement bigger than any other weight loss fad out there, but it has also become a vehicle for me and my team to make a difference in the world. To empower people to lose weight, get healthy and get in shape without the struggle that most people expect while dieting. To say that I am a fortunate man is an understatement.
As we continue to expand into fitness programs, we are super excited to announce that we just signed IFBB Pro Matt Christianer as our first ever sponsored athlete. One of the fittest (and inspiring) people I know.
Matt encompasses everything we love about fitness and nutrition. His positive attitude, generous spirit and love for life make him the perfect IIFYM.com sponsored athlete.
We met with Matt earlier this week to ask a few questions and inform our readers about this awesome person.
Here is that interview:
For our readers out there that might not be familiar with you, please tell us a bit about yourself.
I am 33 years old currently living in AZ engaged to the real Wonder Woman. Beyond that, I am the first IFBB MP Pro in history, 3X IFBB champion, 2x Olympian, co/star of the Netflix documentary the Perfect Physique, and have been published in many fitness magazines.
However, my story begins long before then. My love with fitness first started when I was 15 and got my very first job at a gym in Payson, AZ when my family relocated from Ohio. I lifted for two years before tragedy struck. At the age of 17, I was involved in a near-fatal high-speed rollover car accident where I was wearing no seat belt.
I was life flighted to Scottsdale Osborn with head trauma and a broken hip and femur.
I remember wheeling my wheelchair back in the gym for the first time about a month after my accident. I could only train the upper body but that did not stop me! I trained another year before I had to have a 2nd hip surgery. After another year, I was fully clear to train 100%.
This is when my quest for competing began! I would not dare step onstage without the legs to match my upper body. It took nine years after my accident before I would step onstage as a middleweight in bodybuilding.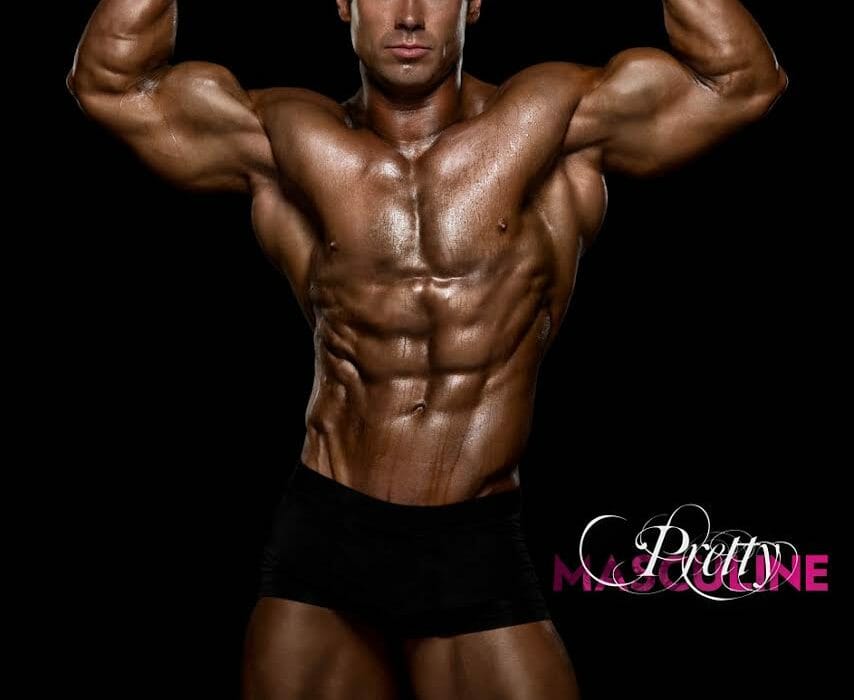 Image Source: Mike Ruiz – Pretty Masculine
I ended up winning both the novice and amateur divisions. From there, I went on to compete at the national level in bodybuilding until I heard about a new division starting in the NPC/IFBB, Men's Physique.
Becoming an IFBB Pro as Matt has takes incredible dedication, starting with a flexible dieting macro calculator is a great place to start!
This was my division and I ran with it! I would eventually win three IFBB shows and have the honor to compete in two Olympias. Over the course of competing for years on end, I had completely trashed my hip and it was time for what I had been dreading for years…my 3rd hip surgery.
This surgery would end up being a full hip replacement. During my year and a half of rehab, I learned a lot about life, my spirit and the power of the mind. I could have never gotten through this last surgery and rehab without my amazing family and fiance Heather.
This year has been my comeback year and within the last few months have shot with Muscle and Fitness, Muscular Development, FitnessRX, Inside Fitness, A1 Supplements, and MD Latino. I will compete in my first show after having my full hip replacement on July 29, 2017.
The last time we saw Matt Christianer on stage was in 2015 at the Dennis James Classic. Why such a long break? (hips surgery plus whatever else)
After Dennis James, I knew what had to be done, what I had put off for over seven shows… a full hip replacement.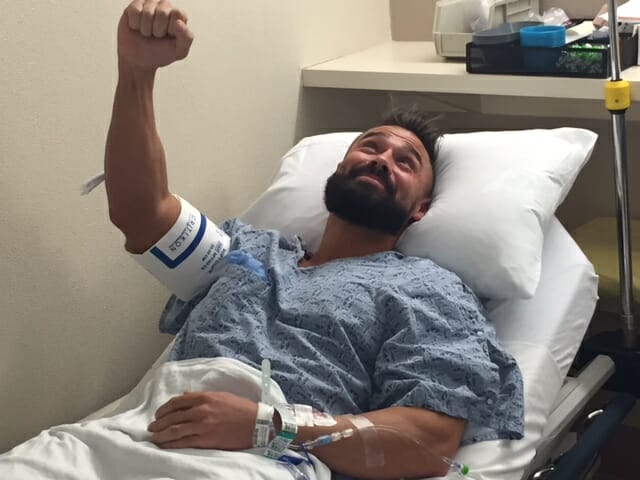 How is the recovery going?
The recovery is going well, however, longer and more painful than I had imagined. That being said, being able to train legs again, knowing my hips can take the weight is a very freeing feeling.
I have learned to listen to my body and am realistic with my strengths and weaknesses. My overall goal is symmetry. I end up getting in leg workouts 3x per week.
I still have some pain left, but my doctor has said that another year of rehab and training and the pain should be fully removed.
How long were you "out" for?
I actually walked out of the hospital the very next morning after hip surgery. I took a solid three weeks off as a mental break and to let my body focus on healing. From there, I slowly started my therapy and training in the gym again. I had lost so much size and strength it was a very mentally challenging time for me.
After a solid year of recovery, I really stepped up my training, and now here I am two and a half weeks out from my first show back after my hip replacement.
Left: 3 weeks post hip replacement
Right: 1.5 years after hip replacement – 2 weeks out from IFBB Prestige Crystal Cup (July 29th)
How did you deal with taking that much time off from the gym?
My fiancée took amazing care of me when I was down. The support I've had from her and my family, friends, and sponsors were a huge help. When I was forced to slow down and take time off, I really tried to enjoy the break.
I have been training for 18 years straight and I was able to mentally take a negative and turn it into a positive to come back recharged and better than ever.
Did you count your macros while you were healing?
I did not. I ate in moderation and did not restrict myself. After so many years of my life spent training and dieting I didn't really need to track during that time. I had an idea of where I needed to be nutrition wise. I just wanted to focus on healing mind, body, and soul.
Now that you have recovered from your surgery, you have decided to compete again. Tell us about the road from recovery to being stage ready.
The road to recovery has been a grueling one. As I've mentioned, I'm two and a half weeks out from my first show back! After surgery, it has been a very gradual process. I started with mostly physical therapy and then moved to light training. I just kept slowly moving forward. I kept telling myself that I have to keep pushing forward, even if some days are just a crawl, its progress.
How has IIFYM helped you with your prep?
Well, I've been following the IIFYM strategy since 2014 but having more resources from you guys has helped greatly. I've found it to be incredibly beneficial and allows me so much more room for adjustment the further I get into the process.
Couldn't imagine using any other diet to reach the stage in peak shape!
What were your macros when you started training for this show and what are they now?
My numbers when I started training for the show were; 200P, 250C, and 65F. I am now in the middle of a carb cycle where my numbers fluctuate between 200P, 150C, and 45F to 200P, 350C, and 45F.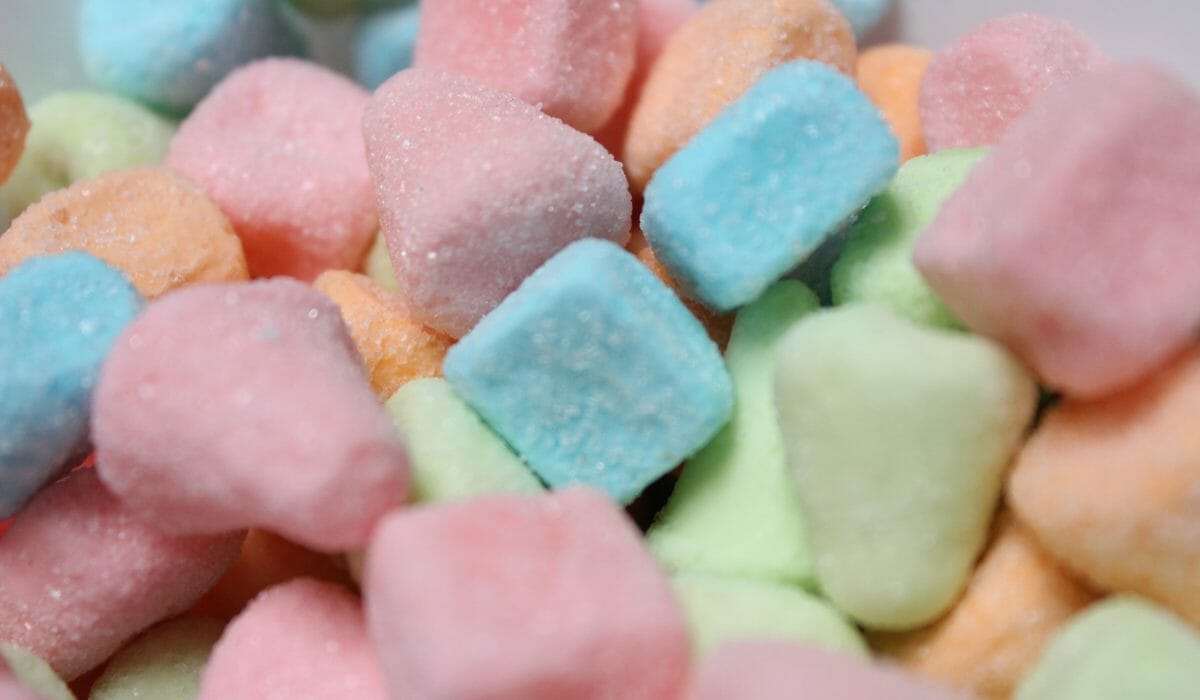 What are your go-to foods when dieting for contest prep?
For proteins, I am big on egg whites with lots of veggies thrown in. Turkey is a favorite staple of mine as well as grass-fed beef, venison, elk meat, and fish. My fats are usually avocados and peanut butter, and eggs (when I keep in the yoke).
When it comes to carbing up for a bodybuilding show, I keep it simple. I only use carbs that I have recently been consuming…
For carbs, everyone's favorite, I love soda flavored slushies and jasmine rice for breakfast with cinnamon. I save a lot of my carbs for sour patch kids, as I'm a sucker for candy. I recently bought a snow cone maker and it's been worth its weight in gold as it's been 118 degrees in Phoenix this summer.
What kinds of foods do you use to carb up on during peak week?
I keep it simple. I only use carbs that I have recently been consuming; jasmine rice, sour patch kids, caramel rice cakes, Red Vines, baked potatoes, and donuts.
What are your go-to foods when trying to add size in the offseason?
Loaded Burgers! Oregano's Pizza! Lots of deer meat and steaks, any kind of potatoes.
(Our clients have the benefit of dieting with foods such as this, one of our coaches can build a  Macro Blueprint so you can too!)
Let's talk a bit about exercise. What type of routine do you follow?
At this point in my career after almost two decades of training, trial and error, I train 100% instinctive. I have learned to listen to my body and am realistic with my strengths and weaknesses. My overall goal is symmetry. I end up getting in leg workouts 3x per week.
Chest, back, shoulders, bi's, and tri's I train 2x per week. I train calves six days a week and end up doing 2-3 ab workouts per week as well. I base my workouts on stress levels, sleep patterns and overall energy level. I hit my strong body parts at the end of my workout and always start with my weak body parts first.

Do you take any supplements to help you train harder or recover faster?
I'm currently taking Isomorph28 made by APS nutrition which is their isolate protein. I also take their pre-workout Mesomorph but only on the days that I really need the extra boost! I take a nitric oxide booster called Plasmagen Nitrate before 75% of my workouts. Gotta have the pump! Love the pump!
How much cardio did you do to get in shape for this show?
The Macro intake usually takes care of my conditioning but before any big show or shoot, I'll start cardio 3-4 weeks out. Usually between 15-25 minutes of HIIT 3X per week. I am two weeks out and currently doing 20 min of hit 3x per week.
What kind of cardio do you do to get in shape? LISS? HIIT? MISS?
I may switch it around due to my hip and how it's feeling that day but I try and do as much HIIT as possible! I get on the stair climber and elliptical as much as possible. Hit it hard and get out.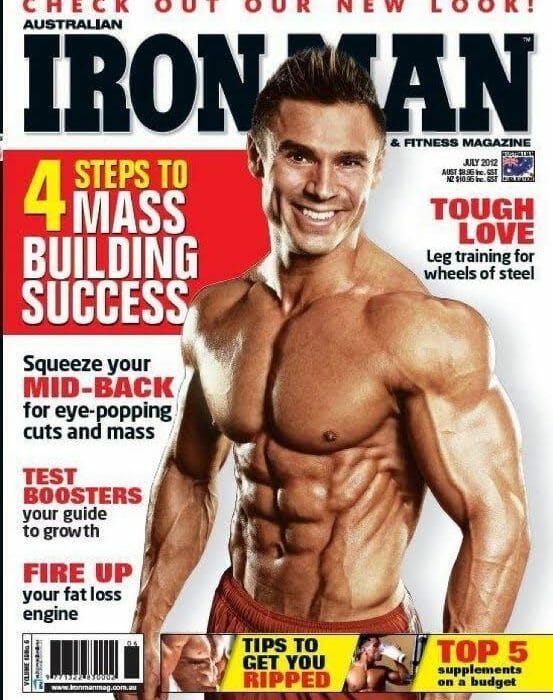 What is your goal going into this show? I know you are training to win, but is there a minimum placing that you would be happy with? Top 5? Top 3 perhaps?
I always train to win, but more importantly, I train to beat my best! There are a lot of things that you cannot control come show day, so all I worry about is what I can control. What I can control is coming in my best, leaving no stone left unturned throughout the training journey and having a smile along the way (even the nights I drag myself to sleep.)
Sure top three is great, but 1st is an automatic Olympia qualification, so you know what I'm gunning for!
Congratulations on your recent engagement. Tell us about your fiancée and how you proposed.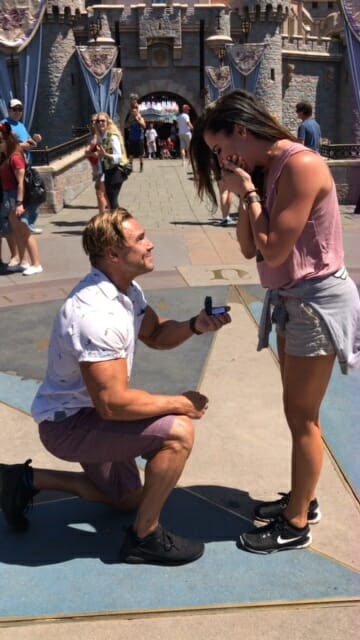 Thank you so much! Heather Schneider is my dream woman! The real Wonder Woman! We reconnected after not seeing each other for years after high school. I ran into her at a local show after moving back to AZ from LA. After a 5 hour talk over coffee, the rest is history!
I am so proud of her, not only because she is a national level bikini competitor and lives the fitness lifestyle, but because in June of this year after a million years of school, she became Dr. Schneider! Soon to be Dr. Christianer.
Watching her day in and day out, caring for her patients, and changing lives is so inspiring! I ended up proposing at her most favorite place, Disneyland! She has been going there since she was a little girl. I had her entire family in on it with me.
We set-up in front of the castle for a huge family picture. What she didn't know was it was all a big set-up to pop the question.After her mom slipped the photographers the note, her dad distracted her and her sister Summer slipped the ring into my shorts!
I grabbed her by her precious little hands, explained to her how she has saved my life and got down on one knee. Best day of my life!
Lastly, What about your focus and attitude? What is different this time around?
Balance. My life has much more balance since the last time I competed. A good woman will do that to you. Keep your head on straight, motivate you, keep you pushing for the right reasons. Life is so amazing, why not enjoy every moment of it!  Before I received my hip replacement, the last few shows I did got very mentally challenging as well as physically damaging.
This is a subjective sport and there are times situations are happening off-stage that you are unaware of. These occurrences made me bitter, made me lose my love for why I even started all those years ago. The stress started to get to me, draining myself prep after prep, coming in better and better and placing worse and worse. It's jaded me for awhile. That's all I will say about that.
But after meeting my fiancee and getting a fresh start with this hip. I reflected, my perception changed and grew, my consciousness reached new heights. My hunger for success, for achieving a physique carved out of stone once again awakened. I started to feel like a kid again, like when I first started training 18 years ago.
Hungry, excited, renewed! Like a Phoenix rising from the ashes, my love for this Art was born again.
Older, wiser, but still with the heart of a child I remembered why I started this journey! For me! Once my hip was replaced and I was down and out…it slowly returned. I know twice now in my life what it's like not to be able to fully use my legs.
I am so grateful! I am so lucky to be able to train, to compete, to model, to live my life my way, to breathe, nothing is taken for granted now! I am free!  Just gratitude and resonating on a frequency of love and positivity no matter what I am doing, no matter how exhausted. Life is supernatural, its what ever you think it to be, why not make it your playground, you have the power!
Follow Matt Christianer on social media to see more about his journey back to the stage: Instagram and Facebook.