Introducing Amber Orton (Fokken)
IIFYM: For those who don't know you, please tell us a little about your background and how you got into fitness?
Amber: I fell in love with fitness in 2010 after I won the overall in the bikini at my very first NPC show. I had a background in pageants and modeling, yet never realized my love for lifting weights and living a truly fit lifestyle until I began competing. The decision to compete was 100% driven from my older brother, Aaron Orton, owner of Genuine Fitness in Eugene, Oregon. He pushed me to enter a show because he saw potential in me I would have never seen. So I give a lot of the credit to him for believing in me even back then.
Previous to competing, I received conjoining degrees at the University of Oregon in Economics and business administration with a focus in finance and was a first-time homeowner at the age of 19. My career direction drastically changed when I realized my strong passion for the fitness and health industry and have since then made it my everyday life as a full-time personal trainer, nutrition/prep coach, posing instructor, endorsed athlete, NPC judge, and fitness model.
IIFYM: How many years have you been actively working out for now?
Amber: I have been active my entire life as I grew up playing every sport under the sun. Through high school and college, I dabbled in the gym with weight lifting but never really stayed consistent until 2010. With that being said, I feel I have been actively working out for 6 years now.
IIFYM: Tell us a little about your diet. What does a typical day look like for you?
Amber: I use a flexible dieting/IIFYM approach so my nutrition never stays the same, but below is a basic breakdown of what some days may look like. I use Icon Meals meal prep service as it is a great, affordable, and efficient way to have meals pre-made and freshly delivered each week as well.
Meal 1: 1/2c MyOatmeal Oats + 3 egg whites/1 whole omega 3 egg (I often times combine these ingredients to make protein pancakes or waffles) but if on the go I will eat the IconMeals pre-made protein pancakes. I sometimes top this with fruit.
Meal 2: 4 egg whites, spinach, mushrooms, tomato, hot sauce scramble or omelet with Ezekiel English muffin.
Meal 3: Large taco salad made with cabbage, lean ground turkey from Icon Meals, brown rice and/or black beans, salsa, and avocado. I also eat a ton of huge kale salads as well! Love Kale 😉
Meal 4: 4oz. buffalo, 4oz. mashed sweet potato, and broccoli from Icon Meals
Meal 5: Spaghetti Squash "pasta" with Icon Meals grilled chicken breast, mushrooms, onions, bell pepper and a cream cheese greek yogurt "sauce". (Recipe on the blog – one of my staples)
Meal 6: Low carb protein waffles (recipe on blog) with 2 tbs Buff Bake nut butter
I try and stick with whole food sources only because I am looking for volume at that point and "dirtier" foods are going to be less filling
IIFYM: When it comes time to get really lean for a contest or photo shoot, how much so-called "dirty food" do you include in your diet?
Amber: Typically towards the end, I try and stick with whole food sources only because I am looking for volume at that point and "dirtier" foods are going to be less filling for the macros. So I slowly start leaning more towards "cleaner" foods as I get closer to a shoot.
IIFYM: How do your "off-season" macros compare to your contest prep or photo shoot macros?
Amber: My offseason macros are much higher than my macros right before a photo shoot or prep. I typically work my metabolism up to being able to handle a lot more macros on my offseason through reverse dieting. I would say I eat 100G more carbs and 20G more fat in my offseason on average.
Not sure where to start with tracking macros? Check out the IIFYM Macro Calculator
IIFYM: Do you make any drastic changes during your peak? Carb depletion, sodium loading, water depleting?
Amber: Yes, I have always utilized sodium and water loading for my peaks along with some carb depletion (I never go extreme – like 0 carb days ever though) before a carb load/water depletion.
IIFYM: Do you include refeeds or cheat meals in your diet?
Amber: Yes a must! I have weekly refed in my offseason and typically refeed every week to two weeks while cutting.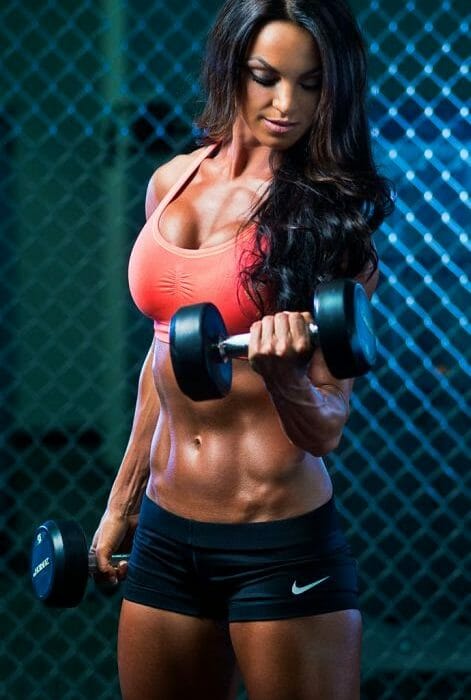 IIFYM: Hunger has to be an issue from time to time. What hunger busting strategies do you find work the best?
Amber: I keep my mouth busy with black coffee or tea a lot. Chugging water, using music as a distraction, getting out of the house, and brushing your teeth to signal to yourself you are done eating is a good trick I utilize!
IIFYM: How has your diet philosophy changed over the years? Have you always eaten this way since you first began or how has it evolved?
Amber: I have evolved a ton in my business and my personal dieting philosophy. When I started my very first prep I was completely clueless when it came to nutrition. The good news is my brother who was my trainer was smart and knew if I just cut out the 300 calorie mocha I was drinking every day I would be at a deficit.
So he never gave me any strict guidelines or meal plans. Just simply told me what to eat more of and what to eat less of. That approach worked great for me as I got very lean and won my first show. My second prep, however, I had a horrible experience with a coach who put me on a very restrictive meal plan.
That went on for the next two years and my relationship with food was drastically changed. I began binge eating more, becoming obsessive over food and realized there had to be better methods. When I started my own business in 2013 I took my prep into my own hands and learned what worked for my body.
I started implementing more of an IIFYM approach and grew with my experience and knowledge in that aspect over the last three years. I feel I am 100% in a different mindset now when it comes to nutrition but am happy I experienced both sides of how to approach dieting so I could relate to others and teach them the healthier/more balanced approach.
IIFYM: I understand that you have close to 300 clients that you put on IIFYM for their contest prep diets. Do you use a coach when getting ready for a contest? If so, what benefits do you feel you gain from this?
Amber: As a business, we train close to 400 clients at any time between myself and four other trainers. However, I do not personally work with 300 clients as that would be nearly impossible to do efficiently. Yes the majority of them are macro based clients. As far as myself, I don't use a coach any longer, however, I still have a few people I use as "eyes" to keep me on track. I use my brother still to this day to give me an unbiased honest opinion on where I am at in my prep from time to time.
I feel contest prep can make us all a little crazy and it's harder to see the changes in your own physique that someone else might see because we stare at ourselves every single day. Using someone else's eyes to tell you that you are or aren't on track can be reassuring and bring you back to reality when you have "prep brain". I know I am an extremist so often times I need someone to hold me back from not overdoing it.
Using someone else's eyes to tell you that you are or aren't on track can be reassuring and bring you back to reality.
IIFYM: You work as a personal trainer as well. When training others, do you have them track their macros as well?
Amber: All of my work is done online. I no longer train clients in person. I always give the client the choice of a macro plan or nutrition plan (some people like to follow a meal plan – I know weird right? haha) I feel it should be the clients choice with what they're comfortable with but yes I typically try and suggest macros.
IIFYM: What do you feel most people struggle with most when losing weight and how do you feel IIFYM can help them with sticking it out and achieving their goals?
Amber: Sticking to a diet plan is typically the biggest struggle for most. Especially when it is set up for unrealistic or non-sustainable goals. I think people always want fast results but need to understand that slow and steady truly wins the race for long term results. I do feel IIFYM can benefit most as it allows them to not feel as restricted with their "diet" but gives them realistic methods to weight loss if executed properly.
IIFYM: On the fitness side of things, what does your workout week look like? Are you using a conventional split program? Periodized? Non-periodized?
Amber:
Monday: Glute focused leg day
Tuesday: Shoulders
Wednesday: Arms
Thursday: Back & Chest
Friday: Abs & Lower Body Plyo Day with Glute focus
Saturday: Rest Day
Sunday: Lift whatever isn't sore from the week .. "Touch Ups"
Practically all my lifts are focused on 3-4 sets of 6-10 different exercises at 12-15 reps each. I will add in at least 2-3 HIIT sessions and 2-3 longer duration (40-60 min) LISS sessions to this split typically if I am cutting. My cardio will change based on if I am getting ready for an event, photoshoot, or show or on my offseason. On offseason I stick mostly to HIIT and shorter cardio sessions less often.
IIFYM: If you had to list your top three favorite exercises, what would they be?
Amber:
Hip Thrusts – I feel they are extremely beneficial for glute
Barbell Clean & Press – I like compound movements for total body emphasis and cardiovascular benefits
Deadlifts – I just love deadlifting and lifting heavy weight. No specific reason besides the fact that I love how they feel 😉
IIFYM: What roll does cardio play while you are prepping for a show? HIIT? LISS? MISS? Some combination?
Amber: I typically always switch it up to keep my body guessing – so a combo of both. Never always steady state though. I start adding more steady state at the end of prep but usually start with only HIIT.
IIFYM: Many women struggle with cardio because they find it boring, while many do way too much.  What is your take on finding a balance between burning fat with the diet vs with cardio?
Amber: I think HIIt is the most effective and efficient way to spend your time with cardio for the most part. As long as you are executing it properly you cannot possibly get bored because you're too focused on trying to not die 😉
IIFYM: What's the best part about being a fitness model?
Amber: Traveling! I love to travel and its been fun to travel all over and meet new people/experience new places!
IIFYM: And the worst?
Amber: Traveling! haha, there were a few weeks last year where we were only home a total of 9 days in about 6 weeks. I felt like I was living out of a suit case and trying to stick to a fitness routine and dieting when you are constantly moving from place to place can get rough!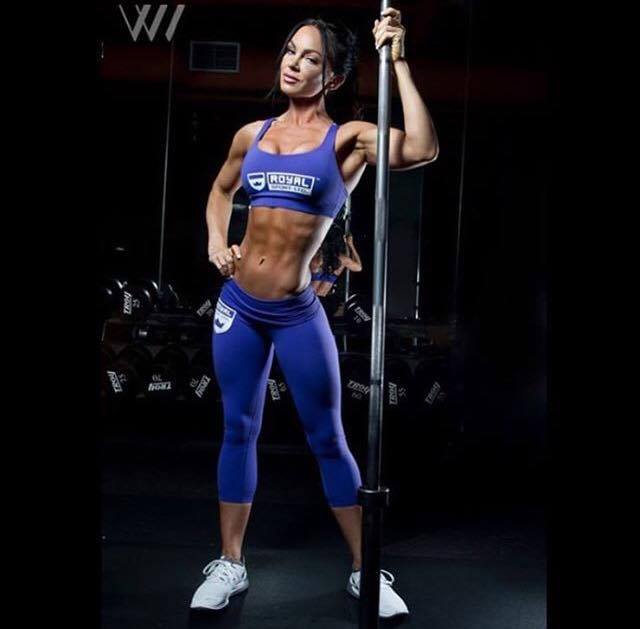 IIFYM: What tips would you give for any aspiring fitness models out there?
Amber: Of course every girl wants to become a fitness model, I feel it is a common dream/goal. But to be honest I never saw that happening for myself. I saw competing as my outlet for competition (I have always been a very competitive person and when I quit playing sports I was looking for something to channel that competitive nature into- competing became that something for me).
All I knew is I wanted to be the best at the sport and I put my everything into the last couple years trying to achieve that. Like I mentioned, the idea of fitness modeling sounded great but I knew there were about 100,000+ other girls with that same goal in mind and I needed to "prove" myself to stand out in another way.
I knew there were about 100,000+ other girls with that same goal in mind and I needed to "prove" myself to stand out in another way.
I didn't have any connections within the industry and didn't know how to go about landing sponsors or modeling gigs but I knew the more my name was thrown around and the more people were talking about me the better my chances (I go about everything in the most logical way possible lol).
So as I became better at the sport, I started working with more local photographers to build my portfolio and give me more fitness based looks to market myself. In 2013 I was ranked #1 in the country for the NPC National Bikini Rankings and that had my name circulating a bit more. I landed my first sponsorship in 2012 with MaxMuscle who at that point was using my images in many of the fitness magazines I mentioned earlier.
When my endorsement deal with Max ended I was in a great position coming off a second place win at Jr.Nationals and being ranked so high. So I started throwing myself at sponsors and networking. Within the last few years I have landed many gigs through these connections and the reputation I have built. I currently have sponsorships with 23 different companies and 4 lucrative endorsement contracts.
So I guess my biggest advice would be to find a way to make yourself stand out! I had a company contact me just from seeing one of my Ads and they wanted me to represent their supplement line. Once you are out there in mass circulation it becomes easier, but the key is getting to that point. Again, it's not something that is easily explainable because I often times wonder how I even got here without necessarily "trying" to become a fitness model.
IIFYM: What types of supplements are you most often using around your workout session? Which products do you feel have been most effective for you?
Amber: When I am in prep I use RoyalSportLtd cardio rush in the AM prior to my morning cardio. It gives me a lot of energy and added fat burning properties. If I am lifting I use Royal Sports Ltd. Siege pre-workout for that added energy and pump.
I also love the Charge BCAAs which I use religiously. I think BCAAs are a must while competing to try and preserve muscle tissue. I also utilize ZMA for added recovery (From NutraSumma) as I get very sore. Some of my staple vitamins from NutraSumma include Women's multivitamin, Alaska Fish Oil, Vitamin C, and Probiotics.
IIFYM: Motivation is something that most people struggle with. How do you get yourself motivated on those days you just don't want to hit the gym?
Amber: I wrote an in-depth article on this on my blog! But honestly the people who support me motivate me the most. If you surround yourself with people who truly have your best interest in mind and love you for who you are they will support your strive for a better you.
The messages I receive on a daily basis that I was able to inspire someone to live a healthier life, or that I helped someone with a binge eating disorder find balance, etc are all the reasons I do what I do. Those people motivate me more than anything. However, I am blessed to have a wonderful husband who understands this sport and lifestyle and he motivates me every day as well.
Want an IIFYM Coach to calculate your macros? Click here to get a Macro Blueprint
I always try and think about how much better I feel after a workout and once I get there I am usually good to go! Just start and get it done! If you surround yourself with people who truly have your best interest in mind and love you for who you are they will support your strive for a better you.
IIFYM: What's the hardest part of living the fitness lifestyle?
Amber: I would say the hardest part is just staying in the "game" all the time. And the pressure to stay relevant via social media. Everyone needs downtime, but when you have a ton of pressure on you to look a certain way or constantly be promoting health and fitness to inspire and motivate others it can be draining at times. Although very rewarding, we are all human and all need some realistic downtime from the grind of the fitness lifestyle too.
IIFYM: What accomplishments are you most proud of?
Amber: Hmm, well I would probably say missing my pro card by one point. That was a pretty big deal to me. And although to some that may not seem like an "accomplishment" I am glad it happened the way it did because I met my husband that day and if I would have gone pro things may have never worked out the way they did.
Also, being featured multiple times now in my favorite magazines such as Oxygen, FitnessRX, Shape, and IronMan, etc. has definitely been rewordings well. I never thought I would see myself in such magazines, so that is something I am proud of. Of course, my first born child will be my biggest accomplishment to date though!
IIFYM: I understand that you and Brandan are going to be having your first child soon! Congratulations. Do you have any names picked out yet?
Amber: Thank you very much! Yes, we do have names picked out 😉
IIFYM: What are your future plans in the fitness industry?
Amber: Right now I am working on goring my business/personal brand. I have been so busy the last few years that I have put off a lot of my goals with having the time to grow in other ways! I have just recently gotten a YouTube channel and plan to be more involved with prenatal fitness and learn and teach the tips and tricks of being a fit mommy!
IIFYM: Besides working out, what else do you like to do in your spare time?
Amber: I work – a lot! But I love what I do so that's okay! My husband and I love to go on daily walks with our dog, go out to eat, and watch movies too!
IIFYM: Are there any sponsors you would like to mention?
Amber: Yes I would love to mention some of my sponsors and thank them:
Royal Sport Ltd
NutraSumma Vitamins
SmartShake
FitMarkBags
BuffBake
AllIn Nutrition
ProTan
ThinSlimFoods
2Chicks&ACause
Oasis Hummos
Walden Farms International
IconMeals
Grind Athletic
MyOatmeal.com
RavishSands Swimwear
AmiLean
American Ethanol
Year Round Brown Tanning
EcoTan
CadenShae